How to get to the public lecture
The public lecture by Dr. Art McDonald starts at 7:30PM on Wednesday, June 1. It is rush seating and the doors will open at 6:30PM. We recommend arriving early to ensure a seat. Overflow seating will be available in case the main lecture theatre fills up.
The lecture will take place at the University of Winnipeg, in the Eckhardt-Grammaté Hall. Proceed in the main entrance to the University of Winnipeg, Centennial Hall, and head up the escalator to the third floor.
The University of Winnipeg is approximately 1.7 km from the Fort Garry Hotel. This is a pleasant 20-25 minute walk, that passes by several attractions including the Manitoba Legislature and the Winnipeg Art Gallery. Alternatively, public transit is available. Taxis are also available right outside the hotel.
Getting there on foot:
1. Head west on Broadway.
2. After 8 blocks you will have reached Memorial Blvd. The Manitoba Legislature will be on your left.
3. Turn right and proceed down Memorial Blvd. for 3 large blocks, until you reach Portage Ave.
4. Cross Portage Ave. The University of Winnipeg will be on your left.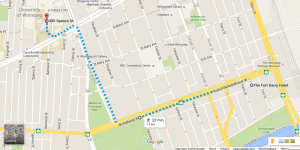 Getting there by bus:
1. Head east on Broadway to Main St. (1 block, 4 minute walk).
2. Cross Main St., and find the Northbound bus stop in front of Union Station (Stop #10625).
3. Many busses go by the University from this stop. Here are some options:
Bus #68 (departs at 17:55)
Bus #53 (departs at 18:22)
Bus #55 (departs at 18:43 and 18:57)
4. Exit the bus at the Spence Street – University of Winnipeg stop (this is announced).
The bus costs $2.65 cash fair. The ride to the University of Winnipeg will take approximately 8 minutes (total transit time, including time walking to and from the bus stops is ~15 minutes).